Welcome to A Certain Scientific Railgun Mafia, Hippopablompoyeetus! You are Haruue Erii.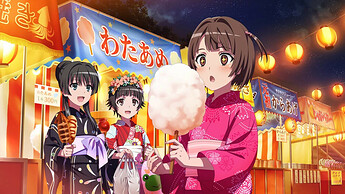 Role: Town Sister-in-Arms
Age: 13
Gender: Female
Height: 153 cm
Esper Power Level: 2
You are a level 2 esper and a Child Error - a student who was orphaned in Academy City, and made to enter the city's orphanage system. You've recently transferred to the same school as Saten Ruiko and Uiharu Kazari, and you quickly became fast friends with them - especially Uiharu, as you both have similar builds and personalities. You are a very meek but kind girl, who only wishes for everyone to get along.
Previously, you had an issue where undergoing emotional stress would cause an RSPK Syndrome, which would make your esper power, Telepath, go out of control. However, ever since reuniting with your childhood friend Edasaki Banri, these incidents have stopped occurring. Recently, you've moved in with her, and both of your telepathy abilities have proven to be very handy as you can both communicate whilst away from each other. You don't know what's going on in the city at present, but you just hope that you can enjoy a normal school like with Banri, Uiharu, and Saten.
Abilities:
Telepath (passive) - At the beginning of the game, you may pick a player on the replacement list or a player from outside the game. That player will be removed from the replacement list, if they were on it, and will be allowed to communicate with you for the rest of the game through a private chat.
Win Condition: Eliminate all threats.
Please confirm by replying to this PM and by sending me the name of a player you would like to communicate with. As always, if you have any questions, don't hesitate to ask.