Didney Worl.exe: The Lost Chapters - Ru Paul's Drag Race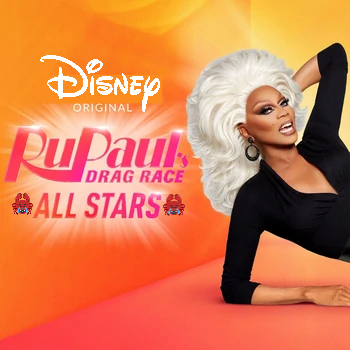 SICK AND DYING, TIRED OF CRYING, YEAH IM SMILING BUT INSIDE IM DYING
Hosted with the help of special guest stars @GGhana and @katze
Rules
Follow the Global Forum/Discord/Game/Meta Rules - Please Read First, the Official Forum Mafia and Forum of Lies Rules, Forum Rules, and Partner Community Guidelines . Please make sure you have enough time for this game before you sign up.
THIS IS AN ALT EXCLUSIVE GAME. DM ME TO SIGN UP/BACK UP/SPECTATE
Signups will be held in this thread only, the game itself will be on Mafia Universe . It is REQUIRED to have a MU account to signup for this game.
Discord is required to sign up for this game.
Breaking any MU rules in this subforum will be considered a rulebreak on FoL.
People who are sign-up blacklisted on FoL may not join games in this subforum.
Because of how this game works, statements such as "I'm petting my cat", "I'm going to school" or "This isnt my scum meta" are to be avoided, however some leeway will be given. Direct alt integrity breaches will be handled with a replacement/modkill as necessary. If you think you might cross the line, you will cross the line. Do not Johnny Test me.
Keep it classy ladies, save it for the cameras! Remember this is a dumb forum game, please keep the toxicity at a minimum, if someone thinks you're being toxic you likely are. Feel free to go as far out as you want in your class card/my dms. Please try to avoid getting excessively emotional in thread, if you need a break/to vent to me feel free to talk to me/take a break.
Flavour solving is not allowed. Almost all flavour has been written pre-game/randomly assigned, but flavour solving goes against the semi-serious nature of this game.
There is a post cap set at 250 for this game. This will be lifted 30 minutes before end of day.
Gameplay
SOD/EOD: 8 PM EST
Phase Lengths: 48/24
Minimum Posting Requirement (per phase): 15 on-topic and useful posts.
Execution: Majority (starting D2) + Plurality. No vote is a valid vote, Tied executions will be decided randomly.
Factional: A kill of some sort is mandatory. If the wolves decide to skip the factional kill then they muse use a Soup Kill. If the mafia choose to use the Soup Kill then a mafia member is assigned, and the mafia must guess
as many players alt identities as they wish. If they get them all correctly, then the assigned mafia member kills all those players. If not then the assigned mafia member dies. All deaths caused by Soup are strongman and cannot be tracked, and will be announced in thread as Soup deaths.
Setup
The setup is called 2x5. It is a matrix setup
THIS IS AN ALT EXCLUSIVE GAME. DM ME TO SIGN UP/BACK UP/SPECTATE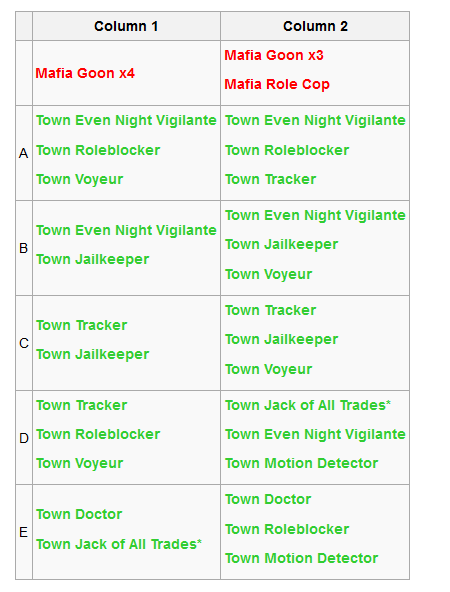 Doctors, Jailkeepers, and Roleblockers can't target the same player on consecutive nights. For the latter two, this is to prevent stalemates.
First, rand the Mafia roles. To do this, randomly choose a number between 1 and 2. Choose the respective column depending on what was decided.
Second, rand the Town roles. To do this, randomly choose a letter between A and E. Choose the respective row depending on what was decided.
With both column and row decided, that will be the Mafia roles / Town PRs present in the game.
Fill the remainder of the game with Vanilla Town until there are 13 Town present.
Signups
Wisdom of the mod WILL be used to ensure an interesting and balanced game.