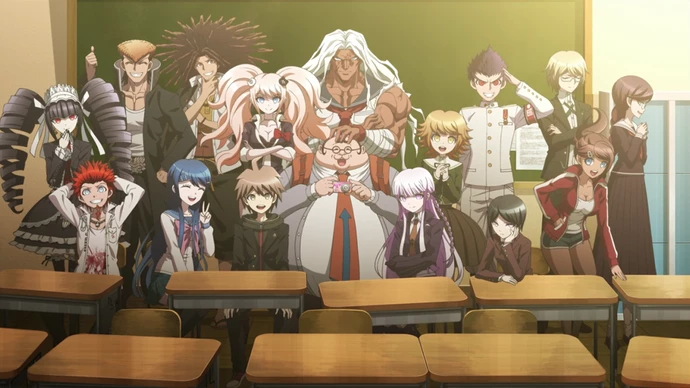 Welcome to Dangan Werewolf Invitational, hosted by @Ruby and Yoshi on @Monokuma
This game was reviewed by Mistyx and Prophylaxis
Rules:
Follow the Global Rules and Forum Game Rules .

To ensure the game runs smoothly, players who fail to meet the requirement of 15 posts will be immediately replaced. Players who zero-post in the first 24 hours of a day phase without informing the hosts in advance may also be proded

I will be closely monitoring the thread for toxicity, harassment, and excessive ATE. However, please do not hesitate to bring problematic posts to my attention if you believe I missed them.
Alts are allowed, but you must inform the hosts of your identity.
Role List
No roles are public however each role is themed be a player from the Dangan Werewolf Community priority to those in the game and that are in the game not from the community had a public item card made after the. You may NOT claim the flavor of you abilities but may claim what they do. If you ever have questions let me know, In addition some abilities may not be able to be claimed .
Sample role PM:

TBA
Gameplay
The set-up is a 15 player setup.
Days are 48 hours unless majority is reached early and nights are 24 hours. SoD/EoD will occur at 2am EST.
Executions are majority and plurality.
No-execute is a valid vote, and may be hammered to end the day early. In cases where no-execute and another vote are tied at the end of the day, no-execute will have priority in the rand. In all other cases of a tie, the execution will be determined at random from among the tied players.
Self-votes are considered valid votes.
MyLo/Lylo will not be announced however votes will be locked in F3.
Voting will follow this format . Section 2 is what you'll want to look at.
The Mafia will communicate through a private Discord server.
The factional kill is optional . If no valid kill is submitted, the kill will be holstered.
The factional kill is Not Assigned to a specific member of the Mafia.
Claiming may not be a favorable strategy.
Item cards are a mechanic in this game you must play them over the course of the day/night privately at the end of the phase all items that were played will be revealed but not by who.
By Default you can only activate one ability per night and one item per phase.
There may or may not be neutrals
Items
Item List

Mid-Day

Vibrating Kokeshi (Mid-Day): Target a dead player and take a random item they were carrying in their death.
Robo Justice (Mid-Day): Tomorrow night target player can't be targeted for killing actions. This will be announced at the start of day, a player can only be affected by a Robo Justice once per game and only three people per night. If more then three people would be effected all will be negated.
Demon Angel Princess (Midday): If this is the only item card you have draw two cards otherwise nothing.
Shard of Despair (Mid-Day): Tonight all protection effects will be negated.
Bun's Cat Ears (Mid-Day): You may play these you are now a cat person.
Message in a Bottle (Mid-Day): Send a message to the GM to be sent to another player max 1000 characters, they will learn you sent it.
Leaf-Covering (Mid-Day): Tonight all protection effects against you will fail (this includes Robo Justices.) At the end of night you will draw two items.

Night

Super Strategy Guide (Night): Your vote secretly counts as two tomorrow. This is disabled in Xylo.
Water Bottle (Night): Target another player, their vote secretly counts as zero tomorrow if the end the day voting for you. This is disabled in Xylo.
Salt (Night): If you die tonight you may make ten posts tomorrow however you may not vote.
School Emblum (Night): If you die tonight you may submit a vote to the host over the course of the next day which will be made at EoD.
Shard of Hope (Night): If you would be attacked tonight you will prevent that attack.
Rabbit Book (Night): Learn what items target player has.
Despair Bat (Night): Hammer is one lower tomorrow. This is disabled in Xylo.
Alter Ball (Night): Target player discards an item card.
Kiss Note (Night): Send a message to the GM to be sent to another player max 1 word. They will learn you sent it.
Apo's Chaos Portal (Night): Target player has their non-killing actions redirected towards a random player.
Kat (Night): Tonight anyone who vists you will recieve a "Meow" feedback.

Other

Tumbelweed (None): This does nothing and can't be played.
Player List
Backups
Pixipizza
Spectators
Milestones