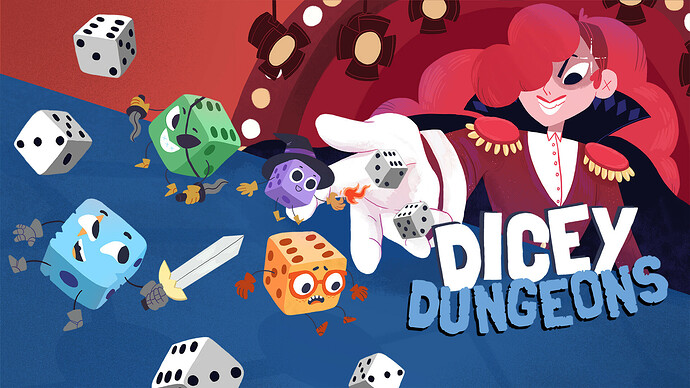 Welcome to Dicey Dungeons FM! Hosted by @ElizaThePsycho and @eevee
Rules
Follow the rules found here:
Additionally, for this game, a minimum requirement of 20 substantive, on-topic, game related posts per in game day are required. Posts that are explicitly or obviously made solely for the purpose of meeting this requirement do not count towards the minimum, nor do posts containing solely a vote. The first time a player fails to meet this requirement, they will be given a warning; the second time they fail to meet it, they will be replaced out. A player who zero-posts will be subbed out without a warning. This requirement may be reduced or waived if an execution is hammered early by majority.
Rolelist
Lady Luck decided that you wouldn't get to know any of the roles, but she wanted me to let you know that there are no neutrals present in the Dungeons.
Sample Role PM (this flavor will not be present)

Inventor


"Oh wow, this place is so cool! The doors! The spotlights! Oops, sorry, I mean, thanks for having me on the show!"
Town Cop

Every night, you may choose a player & roll a dice. If you roll a 1 or a 2, learn their role. If you roll a 3 or a 4, learn their alignment. If you roll a 5 or a 6, learn both.
Gameplay
This setup is a closed setup with Dicey Dungeons flavor. Flavor solve at your own risk, for flavor is NAI.
The wincon for the Town is Kill all Mafia members. The wincon for the Mafia is to Reach parity with the Town
The Mafia will communicate through a special Discord/Forum PM
No-execute is a valid vote, and may be hammered to end the day early. In cases where no-execute and another vote are tied at the end of the day, no-execute will have priority in the rand.
In cases where the votes are tied, the result will be randed in spec chat.
Self votes are not valid votes.
Mafia have a factional kill. It is optional, unless there was a no-execution the previous day, and may be performed alongside other actions.
All votes must be in the form /vote [name of player] (and ping the hosts/vc bots) to be considered valid, and all unvotes must be in the form /unvote (and ping the hosts/vc bots) This is to enable the smooth processing of votes.
Executions are both majority and plurality.
If you have multiple abilities, you may use all of them in the same day/night.
MyLo and LyLo will be announced & votes will be locked, however be aware that LyLo will only be announced if mafia gain parity immediately upon a misexecution.
Dice
Almost every, if not all abilities in this game will be focused around dice.
All dice are six-sided.
Dice are usually used to upgrade the ability being used, but may be used for other purposes.
Usually higher dice are better than lower dice.
You will always know the dice you roll, unless an ability states otherwise.
Alts are allowed, so long as the hosts know the identity of the alt.
Playerlist
Firekitten
ATNoName
Wazza
Aelin
Mistyx
Agent47
GamblingAddict
Jarek
Magnus
Sharklifter
Kanave
Kiiruma
Arctic
Zone_Q11
VooDooSh
Backups
Jane
YoubutWorse
WindwardAway
Squirrel
CRichard
Spectators
Marshal (informed)
EggYolk
Silviu (uninformed)